Road Rules and Snow Chains
Avoid the Calamities and the Penalties
Snow chains must be fitted to vehicles when directed to by the authorities in the snow fields.
Alpine Resorts Regulations of 1998 outline the following:-
Snow Chains must be carried in all vehicles that can be properly fitted to that vehicle entering the snow fields or Alpine resorts during the snow season.
PLEASE NOTE; Penalties do apply and the regulations are enforced.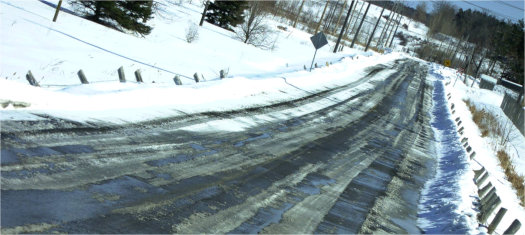 When driving in the alpine areas you may be stopped by an authorised officer to ensure you are carrying snow chains or to ensure the wheel chains that are fitted to the vehicle are properly to the drive wheels.
Authorised officers are all powerful and have the right to stop a vehicle during the snow season and ensure that wheel chains are in the vehicle or that the chains are properlyfitted to your vehicle. Often the Authorised officer will instruct you to adjust or fit the chains to insure a better grip.
Many people are under the impression that they do not require chains if they are driving a Four-wheel drive during the snow season.
It is understood that four-wheel drive vehicles are generally able to travel longer distance in the snow. That does depend on the conditions, there are usually signs directing four wheel drive vehicles to proceed and as a rule they can be exempt them from installing chains.
That is Not a good reason NOT to carry chains four-wheel drive vehicles can still reach a point in heavy snow conditions where you will be glad you had snow chains on board. Because there WILL come a point of time where it will be necessary to use them to continue driving.
Regardless to the manufacturer's recommendations and requirements concerning the vehicle's capabilities suitable tyres need to be fitted and chains should be carried.
All motorists should carry chains regardless to the vehicle they are driving and fit them when necessary or directed. There is an old saying if in doubt throw it out. When it comes to chains there is never any doubt! JUST CARRY CHAINS!!
It is so important that those taking the responsibility of driving in the snow also take responsibility for their safety and if you are not sure of what chains or how o fit or install, please seek professional advice.
For those looking for information about fitting or installing chain the owners handbook or vehicle manual is a good place to start, you can also contact the the vehicle manufacturer.
You can also obtain more information relating to the regulations associated with snow chains from the Department of Sustainability and Environment (DSE).
A FEW THINGS TO STORE IN YOUR MEMORY
Please remember that when you are driving on snow or in icy conditions it is enormously different from driving in normal or dry conditions.
1. Be sure to carry snow chains in your vehicle at all times during the snow season.
2. DRIVE SLOWLY or SLOW DOWN when you are driving in the snow and icy conditions.
3. You need to be prepared fit or install snow chains to your vehicle when directed by authorities.
4. It should also be noted that in many cases erected signs are in place to direct drivers when chains are required to be fitted.
5. Ensure that the chains you are going to carry to the snow fit the vehicle before you leave to visit the snow.
6. Remember, PENALITIES do apply, if you take the chance and visit the snow without chains you will be caught and fined.
Aussie Snow by Australia My Land Pty Ltd
The Magical Australian Ski Fields are just Waiting for You to Explore!